Our firm specializes in MEDICAL, TAX, and ECONOMIC CRIMINAL LAW, compliance consulting in the HEALTHCARE and TAX sectors, as well as MEDICAL LAW and TAX LAW.
MEDICAL LAW & MEDICAL CRIMINAL LAW
We are proven experts in MEDICAL LAW. We advise exclusively on the side of health care providers, in particular physicians, dentists, hospitals and pharmacists as well as pharmaceutical and medical device manufacturers and work closely with liability insurers or act for health care providers on their behalf.
In the STATIONARY FIELD, we also advise on liability law, medical device law, research law, hospital law and accompany structural feature audits.
In the AMBULANT SECTOR, we advise on dental and medical liability law, (dental) medical fee law, (dental) medical professional law, remedy advertising law, panel doctor law, panel dentist law including all matters relating to the institute of the medical care center (MVZ) and the dental care center (ZMVZ). In addition, we advise you on changes to the shareholder structure and corporate form of a group practice, joint practice, supra-local professional practice association (ÜBAG) and MVZ carrier company as well as on the sale of practices. We also represent you in performance audits.
We also have special expertise in all legal issues relating to telemedicine (DIGITAL HEALTH) and medical data protection law.
One part of medical law is MEDICAL CRIMINAL LAW. This area of law represents the symbiosis of our core competencies "medical law" and "criminal law". In this area, we also exclusively advise health care providers in connection with accusations of, for example, negligent bodily injury and negligent homicide due to alleged treatment errors, bribery and corruption in the health care sector, and billing fraud. Furthermore, this also includes criminal violations of pharmaceutical, medical device and pharmacy law. In this context, we not only act as defense counsel in the context of already pending investigative or criminal proceedings, but also advise our clients preventively, in particular with regard to the establishment of customized healthcare compliance systems.
YOUR CONTACT FOR MEDICAL LAW
YOUR CONTACT FOR MEDICAL CRIMINAL LAW
TAX LAW & CRIMINAL TAX LAW
In the field of TAX LAW we focus on the taxation of medical service providers and non-profit associations. We prepare expert opinions on issues in these areas and appear before the fiscal courts. We do not offer traditional tax advice such as the preparation of tax returns, but work hand in hand with highly qualified tax firms.
Our expertise in TAX CRIMINAL LAW covers all provisions and facts of Part Eight of the German Fiscal Code. This includes not only classic tax evasion (including evasion of import and export duties), but also, in particular, the breach of the ban, commercial, forcible and gang smuggling and tax evasion. Both partners are Certified Defense Attorneys for Tax Criminal Law (DSV e.V.).
YOUR CONTACT PERSONS FOR TAX LAW
YOUR CONTACT FOR CRIMINAL TAX LAW
COMMERCIAL LAW & COMMERCIAL CRIMINAL LAW
In the field of ECONOMIC LAW, we specialize firstly in legal problems of (dental) medical service providers (in particular practice succession, change of partners, change of legal form, purchase and sale of (dental) medical practices, medical care centers and private hospitals). Secondly, we deal with legal issues relating to the cross-border movement of goods (foreign trade law, prohibitions and restrictions, special customs procedures, origin of goods and preferences).
As proven experts in ECONOMIC CRIMINAL LAW, we accompany and defend you in economic criminal proceedings under the Criminal Code. The investigations concern e.g. fraud, embezzlement, withholding of pay, minimum wage violations, illegal employment of foreigners, corruption offenses, manipulation of competitions, doping, pollution of water, soil or air, illegal disposal of waste and many more). Both partners are certified defense attorneys for white-collar crime (DSV e.V.).
YOUR CONTACT PERSONS FOR COMMERCIAL LAW
YOUR CONTACT PERSONS FOR WHITE-COLLAR CRIME LAW
YOUR CONTACT FOR CROSS-BORDER TRADE LAW
HEALTHCARE COMPLIANCE & TAX COMPLIANCE
Closely related to this is the establishment, review and support of COMPLIANCE AND REPORTING SYSTEMS for prevention and internal clarification (INTERNAL INVESTIGATION) with regard to tax obligations (TAX) and in and in the healthcare sector (HEALTHCARE & LIFE SCIENCE) in order to avoid criminal charges against responsible persons of the company.
YOUR CONTACT FOR HEALTHCARE COMPLIANCE
YOUR CONTACT FOR TAX COMPLIANCE
Prof. Dr. Dr. Karsten Fehn
FINANCE MONTHLY MAGAZINE IN THE CATEGORY "MEDICAL LAW, GERMANY": "MEDICAL LAWYER OF THE YEAR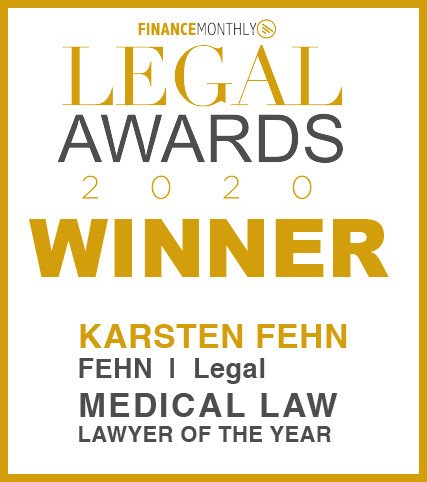 ACQ5 ANNUAL AWARD PROGRAMS GLOBAL AWARDS 2020 MEDICAL LAWYER OF THE YEAR – GERMANY CRIMINAL LAW FIRM OF THE YEAR – GERMANY
CORPORATELIVEWIRE GLOBAL AWARDS 2020/21 AWARD WINNER: PROF. DR. DR. KARSTEN FEHN – MEDICAL LAWYER OF THE YEAR
2020 CORPORATE EXCELLENCE AWARD: 2020 LEADING CRIMINAL LAW EXPERT, GERMANY
INTERCONTINENTAL FINANCE & LAW TOP 100 LEADING FIRMS 2020: FEHN | LEGAL CORPORATE INTL. GLOBAL AWARDS WINNER 2021
GLOBAL LAW EXPERTS: LIST OF RECOMMENDED LAWYERS
Below you will find an excerpt – anonymized and only insofar as these proceedings have already been made public by the press – of prominent criminal proceedings in which Prof. Dr. Dr. Fehn has acted as counsel or defense counsel.
MORE THAN 8500 OUT-OF-COURT AND COURT PROCEEDINGS IN MEDICAL AND MEDICAL LIABILITY LAW CONDUCTED FOR PHYSICIANS AND HOSPITALS
---
ADVICE OF THE DFB E.V. IN TAX (CRIMINAL) LAW MATTERS
---
DEFENSE IN THE SO-CALLED CUM-EX COMPLEX
---
PROCEEDINGS AGAINST RESPONSIBLE PERSONS OF THE SAVINGS BANK COLOGNE/BONN, CONCERNING VARIOUS INVESTMENT DECISIONS
---
DEFENSE IN THE PROCEEDINGS CONCERNING THE SO-CALLED FORD CORRUPTION AFFAIR
---
DEFENSE IN THE PROCEEDINGS AGAINST PHYSICIANS/SHAREHOLDERS OF THE LABORATORY ASSOCIATION COLOGNE/BONN
---
DEFENSE IN THE LIMBURGER ORAL SURGEON TRIAL CONCERNING THE ACCUSATION OF NEGLIGENT HOMICIDE IN THE COURSE OF AN OUTPATIENT OPERATION
---
DEFENSE IN THE PROCEEDINGS CONCERNING THE SO-CALLED COLOGNE PARTY DONATIONS AFFAIR
---
DEFENSE IN THE PROCEEDINGS CONCERNING THE SO-CALLED LUSTREISEN AFFAIR AGAINST PERSONS RESPONSIBLE FOR INDIVIDUAL ENERGY SUPPLIERS AND LOCAL POLITICIANS
---
DEFENSE IN THE PROCEEDINGS CONCERNING THE SO-CALLED COLOGNE GARBAGE SCANDAL
---
REPRESENTATION IN THE PROCEEDINGS CONCERNING THE WITHDRAWAL OF THE CHOLESTEROL-LOWERING DRUG LIPOBAY/BAYCOL AS SYNDIC COUNSEL FOR BAYER AG AND LATER AS INDIVIDUAL DEFENSE COUNSEL
---
DEFENSE IN CONNECTION WITH INDUSTRIAL ACCIDENTS
---
NUMEROUS INDIVIDUAL DEFENSES OF CORPORATE OFFICERS, (EXECUTIVE AND SELF-EMPLOYED) PHYSICIANS, DENTISTS AND VETERINARIANS AS WELL AS PRIVATE INDIVIDUALS
---
CRIMINAL AND ORGANIZATIONAL COMPLIANCE ADVICE
---
REGULAR EXPERT OPINIONS, E.G. FOR THE UNIVERSITY HOSPITAL AACHEN (MED-ON-@IX, TEMRAS, EMURGENCY, SMS-RETTER ETC.), ON EMERGENCY MEDICAL ISSUES FOR A PROFESSIONAL ASSOCIATION, ON AIR RESCUE ISSUES FOR A MAJOR GERMAN AIR RESCUE COMPANY AS WELL AS ON NUMEROUS MEDICAL CRIMINAL LAW AND WHITE-COLLAR CRIMINAL LAW ISSUES ON BEHALF OF VARIOUS COMPANIES AND ORGANIZATIONS
THE WORK OF PROF. DR. DR. FEHN'S ACTIVITIES AS A DEFENSE ATTORNEY AND LEGAL ADVISOR ARE ACCOMPANIED BY NUMEROUS LECTURES
e.g. at the Police Leadership Academy or the German Police University, the Federal University of Applied Sciences for Public Administration, at university or university dental clinics (Frankfurt am Main, Aachen, Witten-Herdecke), at the German Dentists' Conference, before medical associations, in medical quality circles, at the Malteser School, federal congresses on rescue services and control centers, etc.
In addition, there are numerous PUBLICATIONS by Prof. Dr. Dr. Fehn in the form of books, book contributions, essays in professional journals (e.g. wistra, MedR, GesR), which have attracted attention in the legal literature and even in the case law of the Federal Supreme Court (BGHZ 153, 269, 274; OLG Nürnberg, OLGR 2001, 225).